Back to the New York stuff next Monday, but I wanted to close my series of road trip posts with two really special places we saw just before we headed home.
On our last day in Key West, we decided to visit Dry Tortugas National Park. Unfortunately, we got some bad news as we arrived at the ferry…
The ferry operator told us that rain was 100% guaranteed, and that he'd happily refund our money if we didn't want to go. But when the heck were we going to be back again? We decided to risk a bit of sea sickness and hopped on board.
To understand why the Dry Tortugas National Park is such a special place, I think you have to encounter it as we did. From Key West, you board a ferry and set sail into open waters. Before long, all land disappears, and there is nothing but ocean stretching in all directions.
You continue on for about two hours, and again, for most of the trip, this is your view:
And then, out of nowhere, something appears on the horizon:
It's so unnatural, it almost feels like your mind is playing tricks on you.
But there it is, literally in the middle of the nowhere: a massive, abandoned 19th century fort:
This is Fort Jefferson, located on Garden Key in the Dry Tortuga islands. To get another sense of how remote it is, here's an an aerial view…
Dry Tortuga is over 70 miles from Key West…
…which means you've got quite a swim if you were ever stranded out here (amazingly, prisoners on the island have in fact made successful escape attempts over the years):
It was still raining as we pulled up to the docks, but I didn't care…
After all, it's not every day you get to visit a remote tropical island featuring a moat-encircled abandoned fort:
Fort Jefferson has been a National Monument since 1935, and as we crossed the the bridge over the moat…
…our view was essentially the same as this visitor's in 1933. Pretty impressive for the largest masonry structure in the Western Hemisphere (over 16 million bricks):
Fort Jefferson was founded as a defense post for the Gulf Coast. Essentially, if the United States didn't occupy it, there was a danger that an enemy power would, putting the entire Gulf shipping industry at risk.
In 1846, construction began on Fort Jefferson, and would continue for decades after, yet it was never fully completed.
We started our visit by walking the perimeter wall. The moat was created to protect the fort from both enemy ships and heavy seas. In 1861, prisoners were sent to Fort Jefferson to serve out their terms, and rumors abounded that sharks were kept in the moat. However, this is mostly fiction (though at one point, someone tried keeping a 10-footer inside; it died after a couple of months).
An opening in the seawall, allowing water inside:
Dry Tortugas is well known for its flourishing reef, and while we didn't snorkel that day, you only had to look over into the blue-green waters to see that there was quite a lot going on down there:
Walking the perimeter, the decay of the structure became very evident:
Entire chunks of wall have literally fallen into the moat. The elements – especially fierce tropical storms – continue to take Fort Jefferson apart brick by brick each year, and due to it's remoteness, it's not the first on the list for National Parks restoration funds.
From the moat, we headed inside to explore the fort…
…and what immediately struck me was how big it was:
With three sides at 325 feet and four sides at 477 feet, the arched corridors just stretch on and on.
In fact, our tour was quite small, and it was easily to feel like we were alone. So it was the creepiest thing when you'd be staring down one of these endless corridors – and someone would suddenly walk past about ten arches down. But really – how beautiful is that?
Fort Jefferson was built as a 410-heavy-gun fort. Sadly, over time, the embrasures for cannons have significantly eroded…
However, this has created a really great framing effect for the ocean view beyond:
You can find these at about every ten feet or so, and some of the brick patterns are really fascinating:
The other thing that really blew me away about Fort Jefferson was how much freedom we had to explore. For most National Parks I've ever been to, anything with this level of decay tends to be completely off-limits to visitors. In Fort Jefferson, you can pretty much go anywhere. Want to set up a chair and read on the edge of a pretty sizable drop? Go right ahead, and enjoy the view.
You can even go up on the roof level, which has no fencing whatsoever. As someone who has been denied access time and again due to ridiculous fears of liability and lawsuits, it really is refreshing to be able to explore such an amazing place with few restrictions (to be clear, some of the most dilapidated areas are rightfully off-limits).
A lighthouse has existed on Garden Key since 1826 to help boats navigate through the dangerously shallow Dry Tortugas. The current lighthouse, perched on one corner, was built in 1877.
Several cannons are still in place  – this one is on the best shape:
At its peak military use, the population at Fort Jefferson was nearly 2,000. Below is an area of the fort said to have been used as a chapel, after plans for an official chapel on the main grounds were canceled:
The major problem faced by inhabitants of the island was a total lack of fresh water (hence the "Dry" in Dry Tortguas, a term added to alert sailors). Originally, water would drip through the fort into a series of cisterns, ultimately to be collected in underground chambers. However, cracks developed, and the system never worked.
A few other interesting remnants exist, like the ammunition magazine…
A bat flew out as we went inside. I really hate bats.
Back in 1933, the men's barracks were in pretty rough shape:
Today, only the foundation remains:
During the Civil War, the fort was turned into a prison, with an inmate population topping 500. Perhaps most notable of the fort's prisoners was Dr. Samuel Mudd, who aided John Wilkes Booth in his escape. Mudd would later play a pivotal role in providing medical care during a yellow fever outbreak on the island in 1867.
The buildings on the left are still in use today by National Parks workers. The ones on the right…
…not so much:
Quite a lot of Cuban refugees actually set out for Fort Jefferson in their attempt to get a "dry foot" on American soil; this boat once carried over a dozen Cubans to Garden Key:
America essentially uses a wet-foot/dry-foot policy with Cuban refugees: if you're caught by the Coast Guard in the ocean, you're sent back to Cuba. If you make it to land, you're OK. In fact, our ferry boat took a detour to check out this strange-looking boat on our way out (which actually turned out to have USCG written on it).
A few quick notes. Just off of Garden Key is Bush Key. I really wanted to walk out, but it's currently closed for nesting season.
In the distance, we could just make out the second lighthouse of the Dry Tortugas…
…which again, almost feels like a mirage in this remote area of the world:
This is the Dry Tortugas Lighthouse on Loggerhead Key, once the most powerful lighthouse in the United States. Built in 1858, it has survived hurricane after hurricane and still stands strong today (it was automated in 1988). A couple of historic cottages exist on the property, and someday when I'm rich and have a boat, I'm going right back out here to explore: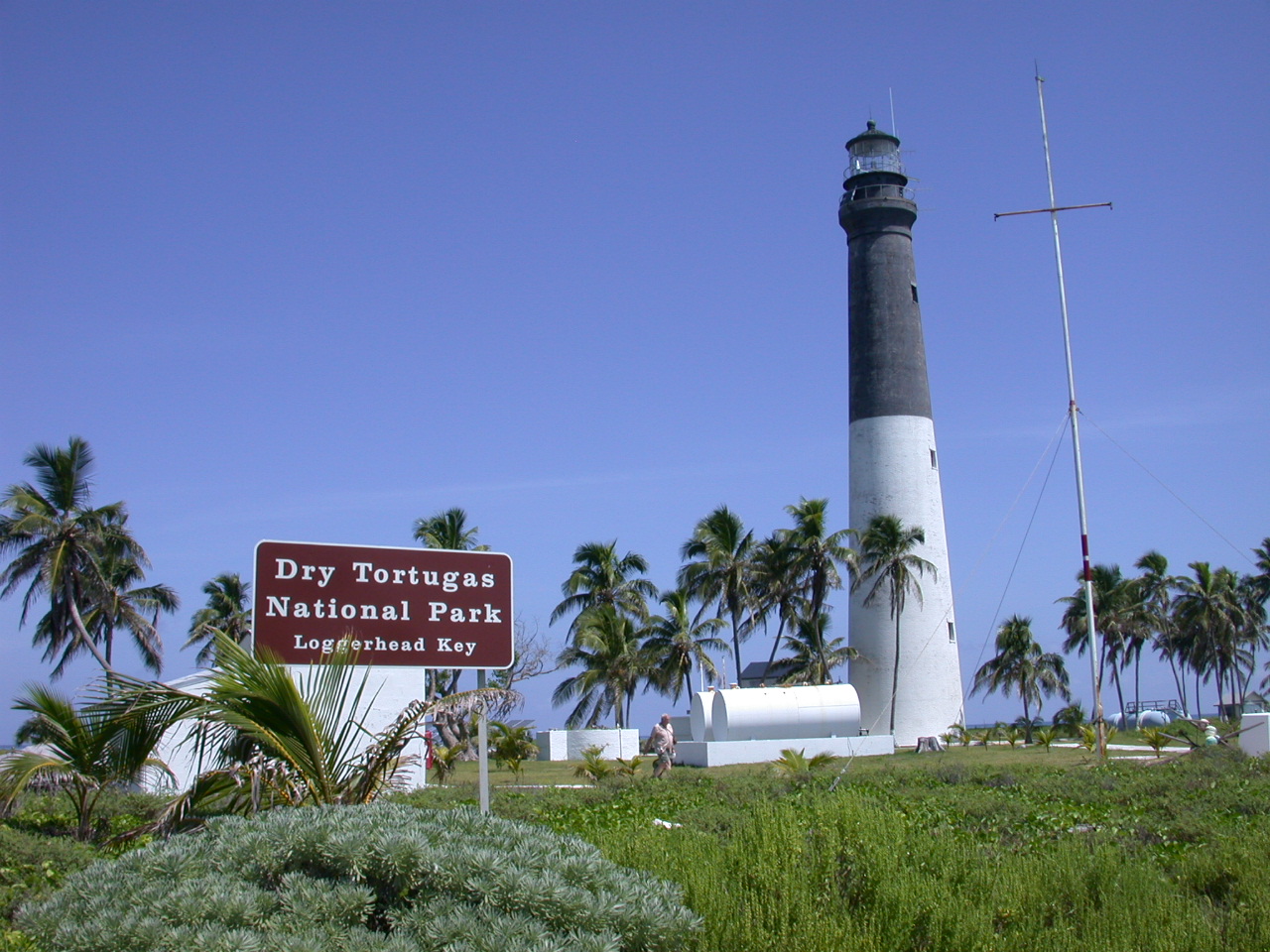 Sea turtles had recently laid eggs on the Garden Key beach – very cool!
I was taken by the vegetation on the island. Being so isolated, I can only imagine much of the more singular plant life arrived courtesy of birds passing through:
Quite a lot of pretty purple-pinkish flowers around too:
Finally, noticed some graffiti in the bricks from past visitors. I believe that's a 1959 on the right – and perhaps a 1929 below?
It costs quite a lot to take the ferry out to Fort Jefferson, but after visiting, I can easily say it was worth the money. Fort Jefferson really is unlike any place I've ever been, and we hope to someday return when it isn't raining the whole damn time!
-SCOUT
If you enjoyed reading this post, would you consider making a donation to help me make my first movie? The goal is $50,000, and to date, 1,728 Scouting NY readers have donated $36,348! Just $5 or $10 can make a difference - AND you get this snazzy Scouting NY sticker/magnet as a Thank-You gift! Click here to donate today!
And hey, if you've made it this far, why not follow us via RSS, Twitter, Facebook, Instagram, or Tumblr?