On July 9th, 2010, my girlfriend and I set out from New York City on a cross-country roadtrip. Our plan was simply to get as far west as we could, avoiding the Interstates at all costs.
Twenty days and 8,000 miles later, we returned to New York City, having driven through 20 states in total. I kept a photo journal of our travels on Scouting NY – click on a portion of our route on the map to link to that particular post, or scroll down for a more detailed index.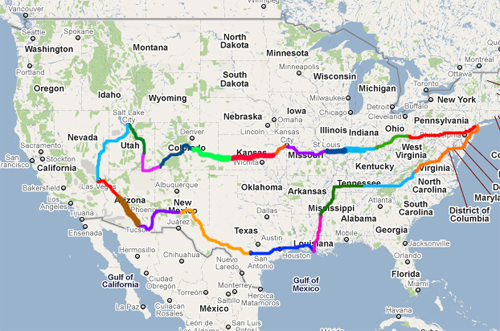 Escape From New York: The Great 2010 Roadtrip!
Day 1: Packing, traffic, and boring Interstate travel make for a necessarily uninteresting first day
Ohio to Indiana: The beautiful Main Street USA town of Aurora, Indiana
Indiana to Illinois: Following the Ohio River; Madison, Indiana; the incredible West Baden Springs Hotel
Illinois to Missouri: Small towns frozen in time

Missouri: The arch; haunted hotel; Forgotten industry; The flooding Mississippi; a nuclear waste Superfund site; farmland; and awesome barbecue
Missouri into Kansas: Historic Westport; the first mall in America; the hamburger mobile; Baldwin City
Kansas: Scranton, Osage City, and other time-forgotten towns; halfway point between New York and San Francisco
Kansas to Colorado: Dodge City cowboys; remnants of the Santa Fe trail; dangerous driving on Pike's Peak; and the best arcade in the US, in Manitou Springs, CO
Colorado: Garden of the Gods; Cripple Creek; an amazing whorehouse; Phantom Canyon Road; swimming in the Arkansas; the Million Dollar Highway
Colorado to Utah: The Mesa Verde cliff dwellings; disappointment at Monument Valley; a town named after a sombrero; and lots of amazing rocks
Utah: The Hole 'n' the Rock house; Arches National Monument; dinosaur fossils; and the forgotten town of Helper
Utah to Nevada: Salt Lake City; touching the Great Salt Lake; a cursed resort; the ghost town of Eureka; and our first flat tire.
Nevada to Arizona: Las Vegas; the Hoover Dam; a strange little town called Chloride; and the oddest cemetery in the USA?
Arizona: Route 66; lots of cacti; Phoenix sprawl; and the mysterious Thing?!!
Arizona to New Mexico: Missiles in Tucson; cowboys in Tombstone; Boot Hill Cemetery; the incredible Bird Cage Theatre; tarantulas crossing the road; and violent nighttime storms
New Mexico to Texas: White Sands National Monument; rockets and space apes; the Orla ghost town

Louisiana: New Orleans night walks; beautiful balconies; Cafe Du Monde; the Corn Stalk Hotel; voodoo at the St. Louis cemetery; a gator-filled swamp tour; the Garden District.
Louisiana to Tennessee: Chemical Corridor; Oak Alley Plantation; exploring Memphis; and Graceland
Tennessee to New York: The Great Smoky Mountains, The Biltmore Mansion and a last stop in Washington D.C.

-SCOUT
If you enjoyed reading this post, would you consider making a donation to help me make my first movie? The goal is $50,000, and to date, 1,728 Scouting NY readers have donated $36,348! Just $5 or $10 can make a difference - AND you get this snazzy Scouting NY sticker/magnet as a Thank-You gift! Click here to donate today!
And hey, if you've made it this far, why not follow us via RSS, Twitter, Facebook, Instagram, or Tumblr?