I hope you've enjoyed my recent posts on St. John. Like most people, I always assumed the Virgin Islands were just some pretty beaches and pleasant rum drinks. The fact that over 60% of St. John has been protected as a National Park, from its beaches…
…to its forests…
…to its hundreds of years of ruins…
…to its reefs…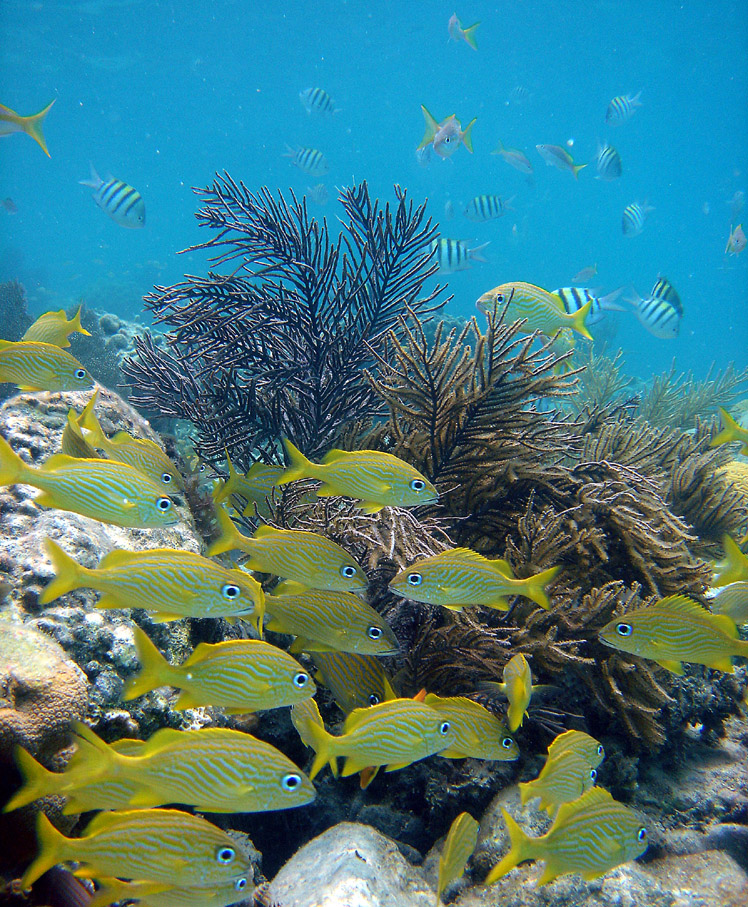 …took me by complete surprise, and pretty much stole my heart. And that you could just drive in, with no admission fee or anything, and go exploring? Without question, St. John is one of America's greatest treasures. If further proof is needed, I challenge you to find a cooler National Parks ranger badge!
I think it's unfortunate that so few know about St. John, and I wanted to help spread the word that the island actually has quite a bit more than just pretty beaches and pleasant rum drinks (though the beaches are quite pretty, and the rum drinks are definitely pleasant!).
I'd love to go, but it looks expensive. How much did all this cost?
Here's how it broke down:
Basics:
Roundtrip plane tickets: $330/each
Hotel: $170/night x 7 nights: $1,190 (split)
Jeep rental – 7 days: $434 (split)
Gas: $40 (split)
Taxi ride from St. Thomas airport to St. John ferry and back: $34/each
Ferry from St. Thomas to St. John and back: $18/each
In total: Approximately $1,200 each.
Food costs:
Breakfast: our hotel had a complimentary breakfast
Lunch: we spent about $80 at the local grocery store for a week's worth of lunches
Dinner: meals can be as cheap as $10 a pizza, or as expensive as the priciest restaurant in New York; it's completely up to you
Day trip costs:
Group charter boat to the British Virgin Islands: $Way Too Much (or, about $250 each…sigh…)
Ferry to Charlotte Amalie, St. Thomas: $24 round trip each
And that's it. There were a few incidentals, like the $10 bottle of dive mask anti-fog gel I've got sitting on my desk, which I will never use again…But you could easily go on this trip for less than $1,500 a person; waaaay less if you really cut back – you can camp on the island for $48/night if you're so inclined.
Note: we went in October, which is considered the end of the summer season, when prices are lowest. Prices double in the winter, then drop significantly once April rolls around.
Wait a minute…Didn't American Airlines PAY For You To Go? Did they pay for the whole thing?? Are you a shameless shill???
When I first announced that American Airlines had sent me two plane ticket vouchers, there were a couple of commenters who feared I would lose all my integrity and become a for-hire shill. While I wish I had that level of insidiousness lurking within me, waiting to be released at the mention of discount airfare, alas, I'm too honest a guy, which is why I laid it all out on my website.
But in the interest of full transparency, let me further break it down:
Sadly, the vouchers turned out not to be free  – each voucher actually cost a $50 processing fee, plus a $25 per bag charge. Now, $75 a piece for plane tickets isn't anything to complain about, certainly. But the vouchers also had a bunch of weird and inconvenient blackout dates, and we had to choose between staying way too short a time (5 days or so) or way too long (11-12 days).
Ultimately, we went with the longer time, which cost us quite a lot in additional jeep rental fees, hotel nights, meals, etc. In retrospect, we would've saved a bunch if we had just bought the tickets ourselves.
But beyond the partially discounted plane tickets, we paid for every single penny of the trip ourselves, and received no other discounts.
OK, OK, I guess your integrity remains intact…Any advice on where to stay?
We chose our hotel, Estate Lindholm, based on their amazing TripAdvisor reviews, and it was one of the best decisions we made on the trip.
Built among the ruins of an old Dutch estate dating back to 1720, the bed and breakfast consists of 14 guest rooms divided among three buildings. Each room had a balcony, with prices based on how nice a view you want:
A huge benefit of Estate Lindholm is that it's just a 5-10 minute walk to Cruz Bay, the main town. It's a STEEP hill (everything on St. John is steep), and you gotta be careful on the (basically non-existent) sidewalk, but few hotels offer such proximity. There's a pool, the views are amazing…
..and at night, when you're alone with just the sounds of island wildlife around you, it's enchanting:
Even better, Estate Lindholm is situated right near the trail leading to one of St. John's most beautiful beaches, Honeymoon Beach. Almost no one goes there, because there's little parking, and it's a 30 minute hike from Cruz Bay. But just 10 minutes out the door of Estate Lindholm down the trail, and there's a good chance you'll have all of Honeymoon Beach to yourself:
But what really made Estate Lindholm special were the owners, who are the nicest couple you could hope to meet on vacation. We would often chat with them at breakfast, or after returning from a day at the beach, and they were always a pleasure, and more than attentive to our needs. They clearly take great pride in their hotel, and their colorful artistic decorations are everywhere.
What about the car rental?
I would definitely recommend renting a Jeep, if at least for part of your trip. Though some guide books say you can get around by taxi, the prices are per person (as opposed to a lump sum), and it adds up very quickly.
Why a Jeep and not a regular rental car? St. John is VERY steep, and you'll often need 4-wheel drive to get up some of the hills. Also, you drive on the LEFT side of the road in St. John – I assure you this is the case, even though our Fodor's Guide emphatically stated that "you drive on the right in the Virgin Islands" (the bold/italics their own).
We rented from Conrad Sutton and had no trouble, but definitely read up on TripAdvisor's USVI forum (search for "car rentals") for the latest recommendations. Also, while it might seem tempting to rent from the St. Thomas airport, then drive over to St. John on the car barge to avoid the hassle of taxis, it's really not worth the inconvenience.
What about beaches? Where's the best snorkeling? How to find the trail heads? Will that plant hurt me?
All of your questions will be answered by Gerald Singer's St. John – Off The Beaten Path:
For restaurant reviews, island basics, etc., you might also think about buying one of the USVI guides from one of the big name companies.
Do you have any favorite restaurants?
Best expensive restaurant? Morgan's Mango – Best paella I've ever had
Best local restaurant? Uncle Joe's BBQ – awesome sweet & tangy sauce
Best place to save money? The Sun Dog Cafe – cheap but tasty pizza and salads
How do you greet someone in the Virgin Islands?
Very important question! Like this:
You: Good morning (day/evening/night/etc.).
Local: Good morning.
You: How are you?
Local: I'm fine. How are you?
You: Great! (continue with your business)
Not everyone cares about this. But the ones that do, REALLY FUCKING CARE. So even though you might feel silly, you should probably err on the side of caution.
I don't think I'll ever get to the Virgin Islands, sadly…Is there a way I can bring the islands home to me?
Yes – by making the best damn tropical drink we had on the entire trip at home: the Soggy Dollar's Raspberry Therapy!
You will need one bottle of Cruzan Raspberry Rum (Cruzan Rum is made on St. Croix, the largest of the US Virgin Islands)…
Orange juice:
Pineapple juice:
Cream of coconut:
Nutmeg (note: always use fresh nutmeg; I'm being lazy here):
Mix the following:
2 parts Cruzan Raspberry Rum
1 part Cream of Coconut
4 parts Orange Juice
4 parts Pineapple Juice
Stir vigorously to completely dissolve the coconut cream. Add ice, and top with a generous portion of nutmeg. For added authenticity, serve in the little plastic cups you took from the Soggy Dollar Bar:
That about wraps it up! I hope you enjoyed my look at St. John, and might even be inspired to one day explore it on your own.
I have to be honest: when we were there in October, the place was really, really empty of tourists…And while it's nice to have an island like this all to yourself, it actually made me sad. I really hate to see someplace as beautiful as St. John go overlooked; places that are overlooked have a nasty way of disappearing.
-SCOUT
If you enjoyed reading this post, would you consider making a donation to help me make my first movie? The goal is $50,000, and to date, 1,728 Scouting NY readers have donated $36,348! Just $5 or $10 can make a difference - AND you get this snazzy Scouting NY sticker/magnet as a Thank-You gift! Click here to donate today!
And hey, if you've made it this far, why not follow us via RSS, Twitter, Facebook, Instagram, or Tumblr?