Did you know Lucy and Desi lived on the Upper East Side?
I had no idea, but apparently, their apartment was located at 623 East 68th Street. There's just one problem – that puts them right in the middle of the East River.
While Lucy and Desi's apartment might not have a real world counterpart, dozens of sitcoms set in New York have linked their studio sets to actual city addresses. I started doing some research the other night after watching a particularly locations heavy episode of Friends, and was amazed at how many examples I could come up with.
And so, without further ado, the Scouting NY tour of New York City's most famous sitcom residences!
We'll start our tour on the Upper West Side at the apartment of our favorite NBC head writer, Liz Lemon of 30 Rock…
…who lives at 160 Riverside Drive at West 88th Street. Strangely, she moves in later seasons to the non-existent 168 Riverside Drive – perhaps the real building was no longer interested in exterior filming?
As it turns out, Liz has a couple of sitcom neighbors…
Will and Grace, who live literally across the street at 155 Riverside Drive.
Moving southwest, our next stop takes us to an apartment where a lot of nothing happened over nine seasons…
…Jerry Seinfeld's pad, located at 129 West 81st Street, btw. Amsterdam & Columbus:
Er, OK, not exactly. Exteriors of the Seinfeld apartment were actually filmed at 757 S. New Hampshire Avenue in Los Angeles. So why use the 129 West 81st Street address? This was the actual building where Jerry Seinfeld and Larry David lived in Manhattan during their early stand-up days.
For all those unannounced pop-ins, George Costanza's apartment at 321 West 90th Street is pretty far away…
Ditto Elaine Benes' residence at 448 Central Park West and 105th Street:
Heading east now across Central Park, we arrive at the apartment of New York's oddest couple…
Oscar Madison and Felix Unger, who nearly killed each other on many occasions at 1049 Park Avenue (at 87th Street), as seen on The Odd Couple.
Just two blocks away is a deluxe apartment in the sky…
The home of The Jeffersons, located around the corner at 185 East 85th Street (Btw. Lex/3rd):
Heading eight blocks south, we come to another upscale highrise…
…900 Park Avenue (at 79th Street), home to Mr. Drummond and the gang on Diff'rent Strokes:
Just three blocks south, we arrive at our first townhouse…
…7 E 76th Street (just off Fifth Avenue), where Fran Fine spent six years serving as The Nanny to the Sheffield family:
Making a major leap from the Upper East Side down to the West Village (because sitcom characters apparently do not live anywhere inbetween) takes us to one of the most famous sitcom apartments of all time…
Monica, Rachel, Chandler and Joey's building on Friends, located on the fifth floor of 90 Bedford Street.
Amazingly, the show located the additional characters all within a few short blocks. Ross eventually moves into Ugly Naked Guy's building directly across the street at 19-21 Grove Street…
…while Phoebe is shown at a walk-up a few blocks away at 5 Morton Street.
And wouldn't they be surprised to learn they all live just around the corner from New York's preeminent OBGYN…
Though the Huxtables were said to reside at the fictional 10 Stigwood Avenue, which may or may not have been in Brooklyn Heights, The Cosby Show exterior was filmed at 10 St. Luke's Place just off of 7th Ave (the townhouse covered in ivy):
Also located in the West Village is arguably the most famous TV townhouse in New York…
Carrie Bradshaw's apartment from Sex and the City, located at 64 Perry Street and currently undergoing a complete overhaul:
And while it's not an apartment, I'd be remiss in not pointing out that the exteriors for the taxi stand in Taxi were shot at an old garage at 534 Hudson Street…
…since demolished in 1998 to make way for this condo building:
Heading east takes us to the home of Paul and Jamie Buchman…
…the Mad About You building at 51 Fifth Avenue.
Of course, sitcom living is not restricted to Manhattan. A pretty big leap over to Glendale, Queens brings us to the home of Archie and Edith…
…the All in the Family house, located at 89-70 Cooper Avenue (literally across the street from a cemetery).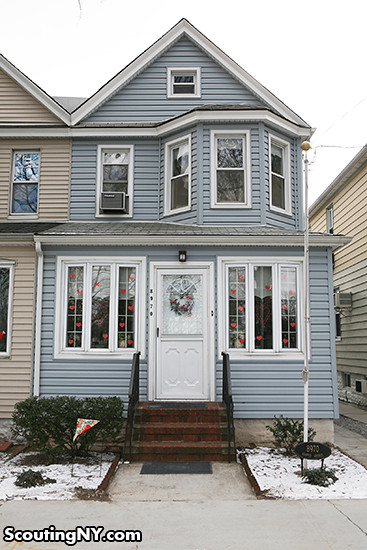 Another big jump takes us to 328 Chauncey Street in Bed-Stuy, Brooklyn, home of The Honeymooners.
Though no exteriors of the building were ever actually shown (and it was referred to as being in Bensonhurst), this was Jackie Gleason's actual childhood home, from which he drew much inspiration for the show.
Now we move to the home of a girl who's only seen the sights a girl can see from Brooklyn Heights…
Did you ever really get the sense The Patty Duke Show was set in Brooklyn Heights? Honestly, if not for the theme lyrics, you'd think they were next door neighbors with Donna Reed, but the show did go out of its way to cite their address as 8 Remsen Street in Brooklyn (though no townhouse exists there today):
Finally, our last stop takes us completely out of New York City and over the Hudson River, because as it turns out, the King of Queens…
…actually lives at 517 Longview Avenue in Cliffside Park, New Jersey.
Here's a handy map to put it all in perspective…
Though I was only going for the big ones that have stood the test of time (or should I have included Caroline in the City's 168 Duane Street apartment building?), I'm sure I missed some glaringly obvious examples. Be sure to let me know in the comments and I'll add it in!
-SCOUT
If you enjoyed reading this post, would you consider making a donation to help me make my first movie? The goal is $50,000, and to date, 1,728 Scouting NY readers have donated $36,348! Just $5 or $10 can make a difference - AND you get this snazzy Scouting NY sticker/magnet as a Thank-You gift! Click here to donate today!
And hey, if you've made it this far, why not follow us via RSS, Twitter, Facebook, Instagram, or Tumblr?