The amount of detail to be found in NYC is absolutely mind-boggling, to the point where there are ornamentation and decorative flourishes that are simply invisible to anyone but the birds.
A few years ago, I was working on a job that had a camera position on a roof near Madison Square Park. I got to spend a few beautiful summer days about 20 stories up, which afforded a fantastic view of this building on West 26th Street between Broadway & 5th.
This building is covered in intricate detail, but what is really incredible is that most of it is way, way too far up for anyone on the street to see. So who was all this designed for? Even from my position, it's still hard to make anything out. But when you get a little closer…
If you look a little further down, you can see flourishes of design everywhere…
…including these guys hanging out on a ledge.
Move a little further down still and you get this great row of gargoyles (or are they grotesques? Can't tell if they are hiding drain pipes)…
Up close: a cherubic baby beside a monstrous gargoyle, complete with curled tongue…and there is simply no way you could see this from the ground. Brilliant.
There was a time when the standard for architecture was insanely high, far beyond the modern expectation of simply maximizing square footage. It blows my mind when I visit tenements that were once intended for the poorest of society and yet were still built with a few interesting decorations in the brick work. Meanwhile, modern standards, courtesy of The Brownstoner:
I'm not trying to depress everyone on a Friday, really! I'm just trying to reinforce how amazing it is not only that such a building still exists today, but that there was once a time when such a vastly different standard was held.
Those days are sadly gone forever, which makes it all the more important to preserve what still remains. I happened to drive by this old boarded-up movie theater in Williamsburg on Rodney and Broadway today…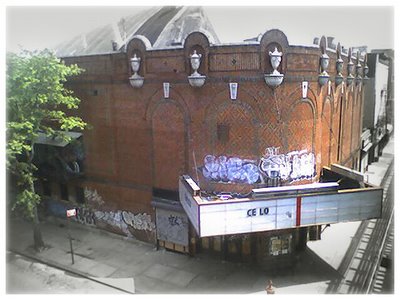 …except it's no longer there. It was recently demolished, making way for what I expect will be more of the same old shit. It's yet another reason to pay a little closer attention to the city – there's a lot to see, but what exists today could very well be gone tomorrow forever.
I want to thank everyone for a fantastic week. We had a ton of write-ups in various blogs, including Curbed and the New York Times, and hopefully found a few new readers! You can always subscribe to the RSS feed above for easy updates. And there's a lot more to come in the weeks ahead! Have a good weekend…
-SCOUT
If you enjoyed reading this post, would you consider making a donation to help me make my first movie? The goal is $50,000, and to date, 1,728 Scouting NY readers have donated $36,348! Just $5 or $10 can make a difference - AND you get this snazzy Scouting NY sticker/magnet as a Thank-You gift! Click here to donate today!
And hey, if you've made it this far, why not follow us via RSS, Twitter, Facebook, Instagram, or Tumblr?